Distributing $41.9 Billion in Unemployment Compensation
Geographic Solutions uses Cisco UCS to confront pandemic job crisis
As the United States confronted a debilitating health crisis in Spring 2020, a similarly catastrophic unemployment crisis was materializing. Countless companies were forced to furlough workers, eliminate positions, or shut down altogether. As a result, many states and territories struggled to alleviate traffic bottlenecks on unemployment insurance websites, handle the intake of Pandemic Unemployment Assistance (PUA) claims, and distribute benefits in a timely manner.
"Our state unemployment systems experienced a 5000 to 6000 percent increase in traffic in March," said Paul Toomey, President and Founder of Geographic Solutions, a leading provider of online employment software for state and local workforce agencies. "There was a tremendous pressure to get money to the people who needed it, so we had to spin up new capabilities and scale our environment very, very, quickly."
The Server Scale
"Setting up a state's unemployment system typically takes at least two years if they're moving fast," Toomey said. "We had to do it in a matter of weeks for multiple states and territories."
To do so, Geographic Solutions purchased 19 Cisco® UCS® servers with a 2nd Generation Intel® Xeon® Scalable processors and Intel Optane™ persistent memory (PMem). Seven of the servers are 112 core, ultra-high performance nodes, one each for the new states and territories Geographic Solutions is now supporting.
Making History
In less than two months, Geographic Solutions was able to scale its infrastructure to support the needs of nine states and U.S. territories. And over the course of 2020, the company processed and distributed a historic $41.9 billion in unemployment compensation and thwarted $10.7 billion in fraudulent claims.
Find Out More
We have the infrastructure and high-quality software to support your region, state, or city's new or existing system. Download Cisco's case study to read more.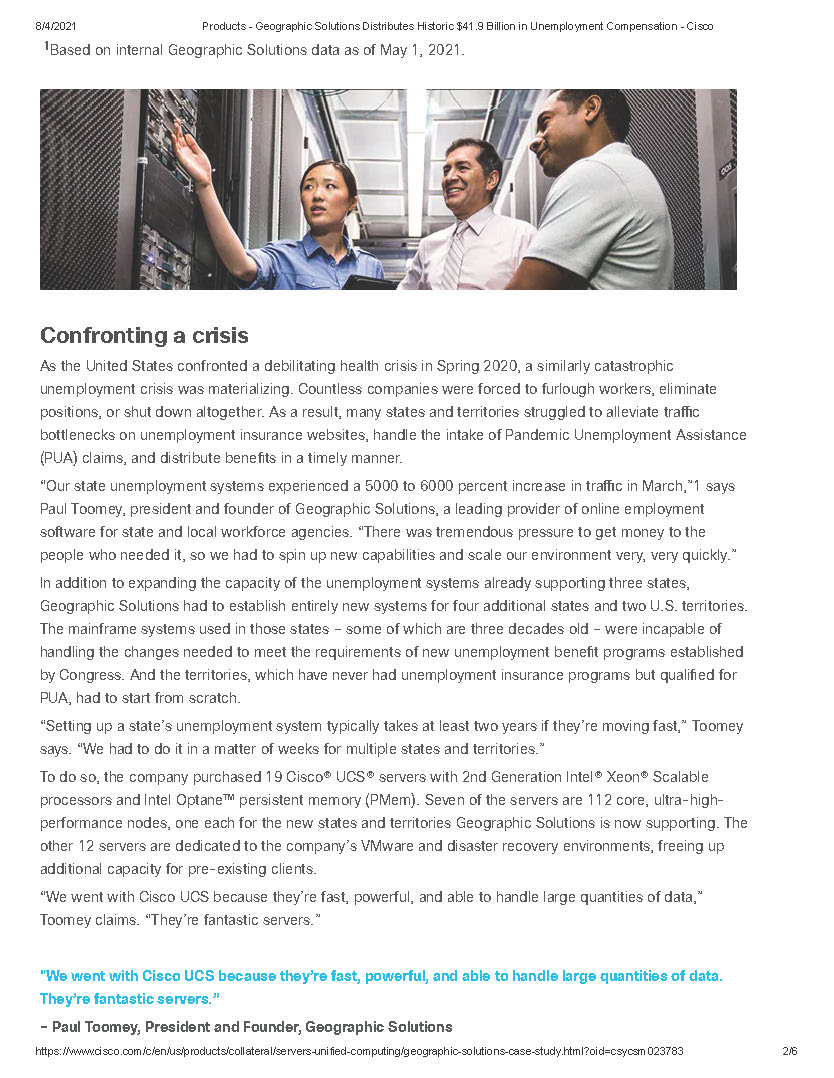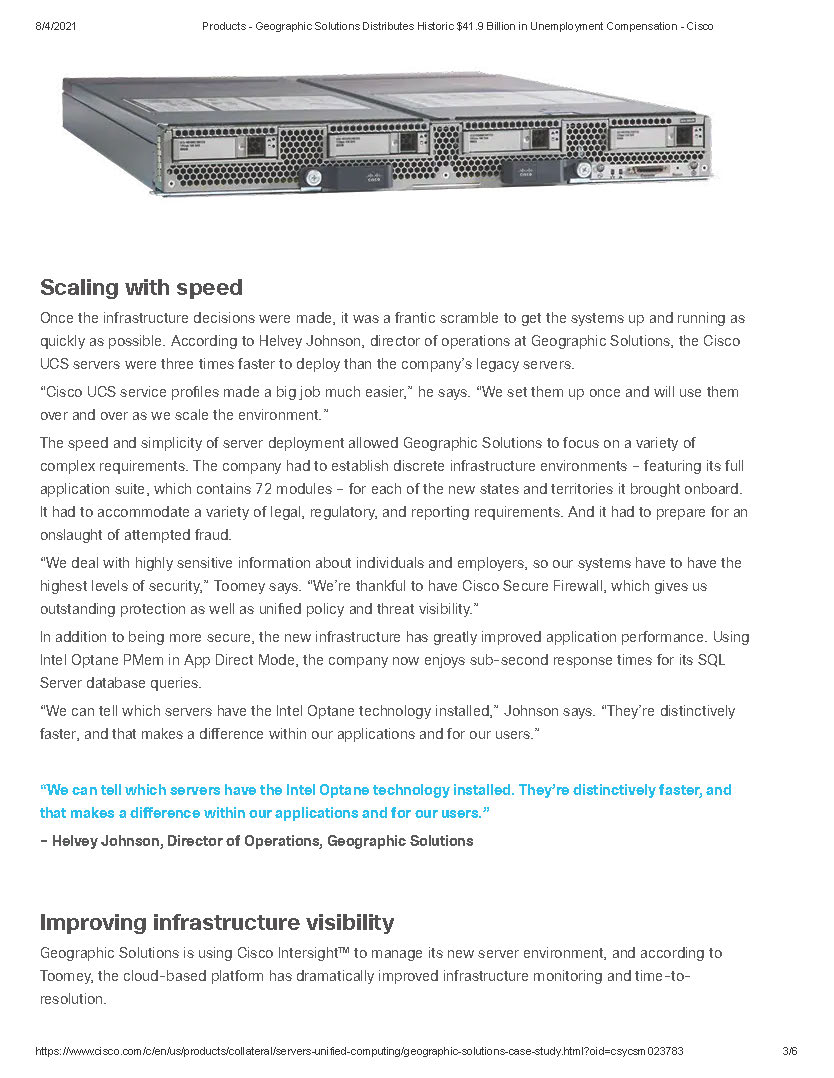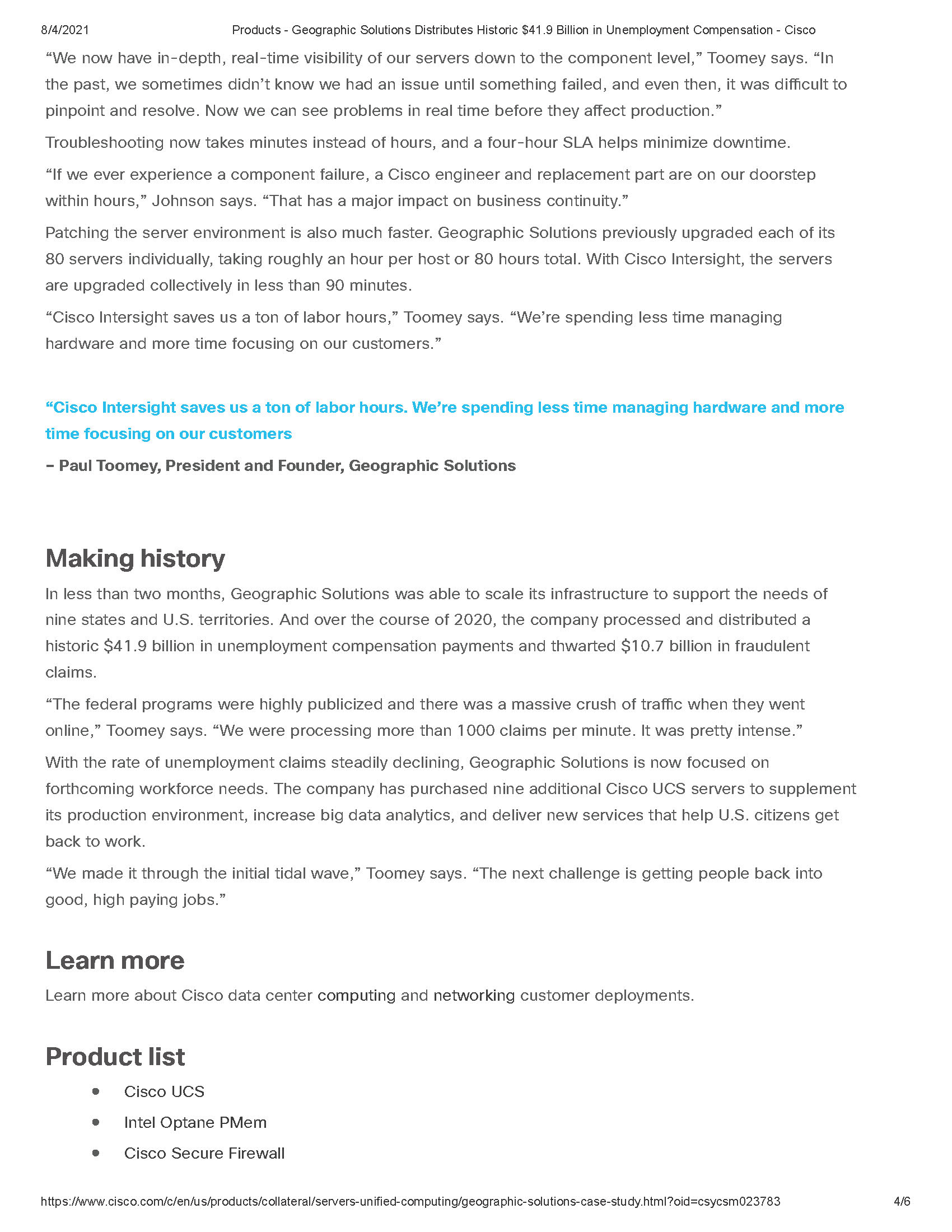 Reducing Recidivism with
Workforce Partnerships
In the July/August 2021 edition of American Jails, Geographic Solutions' Business Development Executive for Corrections, Richard Boone, and Director of Sales and Marketing, Deane Toler, discuss how partnerships between workforce agencies and state and local corrections entities can reduce incidents of recidivism. The direct benefits of recidivism reduction includes increasing the safety in our communities, decreasing victimization rates, reducing criminal justice costs, and fostering family preservation.
Reduced Recidivism with Pre-Release Employment Prospects
Studies have shown that unemployment rates are highest for ex-offenders within the first two years of their release, and programs that focus on proactive, pre-release job placement can, in fact, reduce the likelihood of recidivism, especially among non-violent offenders.
A Solution for Reentry
In recent years, partnerships between state workforce and correction agencies have brought web-based career services technology to the justice-involved, with much success, including pre-release inmates in jails. A leading solution is Virtual OneStop® Reentry Employment Opportunities (VOS REO). Through the use of the system's resources and job search functionality, VOS REO helps inmates develop skills and line up work faster.
Find Out More
Are you seeking this solution for your agency or partnership? Download the case study linked below, then reach out using the contact form. We're ready to partner with you so we can develop a solution that's right for your unique initiative.